At the end of your event, you may finish with teams on the same point score. If the teams are competing for a prize, you will need a tie breaker to decide final placings.
I learnt this the hard way! The first Trivia Night I helped organised ended up a tie for second place. With so much to organise prior to the event, it hadn't even crossed our minds to prepare for a tie breaker situation. This was before the times of mobile phones and we didn't know how to resolve this. It didn't help when guests started yelling out suggestions and the two tied teams began devising their own tie break solution. Luckily one of us recalled an obscure fact from our school days and we used that as a tie breaker question.
It was far from the perfect question and a disappointing way to end what was a pretty well run night. We will never forget to prepare for a tie breaker again!
It is important to understand the two main types of Trivia events and the tie breaker solution appropriate for each of them:
Pub Trivia Events are typically run for commercial benefits and aimed at attracting more serious 'quizzers'. In the event of a tie, it is expected that the tie breaker is decided with questions that further test 'knowledge' rather than based on 'guesswork' or 'chance'.
A Fundraising Trivia Event will normally attract a wider variety of guests who are generally there to have fun and support the cause, rather than win the event. As your event has been organised with this in mind, a hard-hitting tie break question isn't the way to settle the outcome.
In our judgement, there is one tie breaker that is a standout for deciding a Fundraising Trivia Event. It is the Single Question Shoot Out and this forms the focus of this article. Some alternate tie breaker options have also been included.
What is the Single Question Shoot Out?
The Single Question Shoot Out is a single question that has a quantity, amount or date as the answer. The team with the closest 'guess' to the correct answer is the winner and is awarded the placing above their rival.
Example questions
During World War 1, how many enemy aircraft did The Red Baron shoot down? 
Answer: 80 (Source: www.history.com)
 To the nearest month, what date did Michael Jackson pass away?
Answer: 25th June 2009 (Source: www.history.com)
 In kilometres, what is the equatorial circumference of the earth?
Answer: 40000 Kilometres (Source: www.nasa.gov)
How high is Mount Everest in Metres?
Answer: 8848 meters (Source: www.encyclopedia.com)
 How long is the world record for performing an abdominal plank?
Answer: 8 hours 1 minute (source: www.guinnessworldrecords.com}
After the Titanic broke in two, how long did it take for the bow to reach the bottom of the Atlantic Ocean?
Answer: 6 mins (source: www.britannica.com)
Why this Tie-Breaker ticks all the boxes
Teams can have a `guess' at the answer and still have a good chance at winning

The tie breaker has a fast outcome which is important when wrapping up your event

One question is usually enough. There is little chance of teams selecting the same answer and forcing further tie breaker questions

It is useful to split many teams who finish on the same score, as all their answers should differ from one another

If required, this single question can decide multiple tie breakers at once. For example, teams 1 and 2 can go head-to-head with their answers to the question, and teams 3 and 4 can do the same if required

It is easy to prepare for
Researching Questions
Questions should be challenging, but not so difficult that teams can't make an educated guess. You also need to ensure that they are researched from reliable sources so that there is no dispute regarding the answers.
I have listed credible sources against the tie breaker questions above. These are very useful sites that can be trusted for correct information.
It is good practice to quote the source when reading the question. For example. "According to Guinness World Records, how long is the world record for performing an abdominal plank?". 
Top Tip: The suggested sites are great for researching all types of Trivia questions, not just tie breakers.
How to conduct the Tie Breaker
Notify the teams who are playing off against each other

Provide them with paper to write their answers on

Read the question out to everyone

Allow a time limit of 3 minutes for teams to answer

Teams present their answers to the scorer

Score the tie breaker

Ask further tie breaker questions if required

Finalise placings

Award prizes
Download our Ultimate Trivia Night Program now. It's FREE.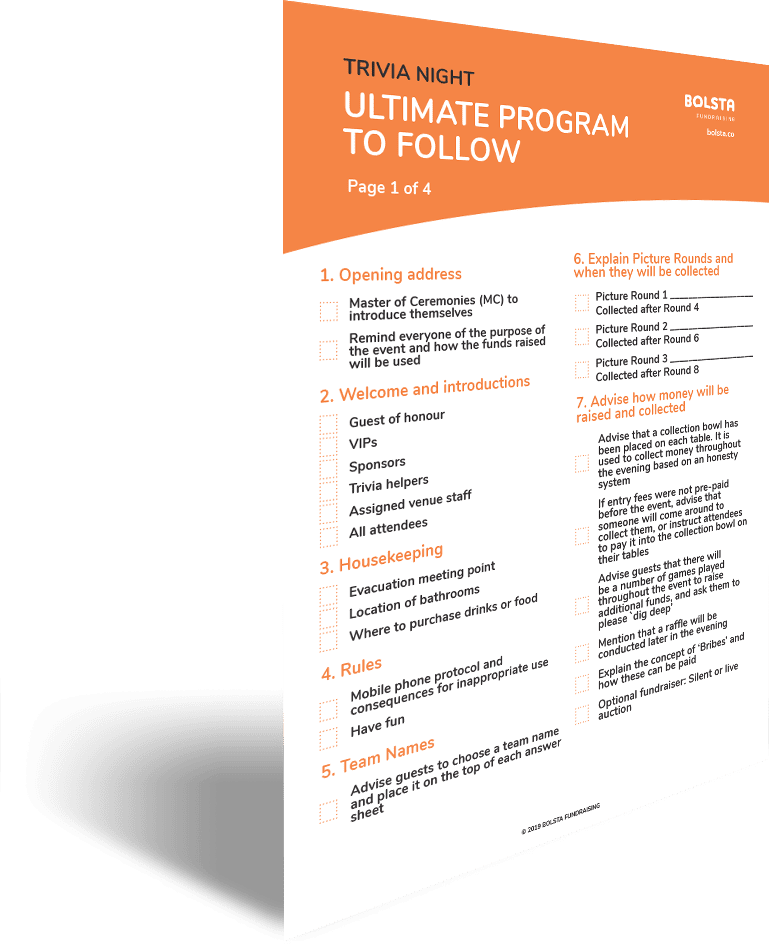 Get the Ultimate Trivia Night Program Here!
This run sheet has been created with 8 Question Rounds and 3 Picture Rounds and sets out everything required to open and close your event effectively.
It also incorporates:
3 Fundraising Games
Raffle
Live or Silent Auction
Trivia Bribes
Other Tie Breaker options
Simple games of chance
A game based on the element of chance is an acceptable and fun way to decide tie breakers for a Fundraising Trivia Event if you prefer. The more enjoyable or random you can make the game, the better! The tie breaker can involve every member in the team or a select number of them. Here are a few ideas:
Ten-Pin bowling with toy pins

Toss paper balls or a different object into a bin

In 60 seconds, make the longest word from 10 randomly selected Scrabble tiles. Each letter can only be used once.

Closest golf putt

Make and fly a paper airplane the furthest

First to build a free-standing tower from blocks or other items

Highest scoring shot, or a combination of shots at a dart board

Pin the tail on the donkey (or create your own theme)

First to stack 15 plastic cups into a pyramid

  First team to select an Ace from a pack of playing cards spread face down on a table

  First team to find 3 matching pairs from a pack of playing cards spread face down on a table

  Turn 20 plastic cups upside down on a table. Place an item under one cup and get each team to take turns at guessing the correct one.
Ideas are only limited by your imagination! Trial any games you invent beforehand to ensure they work ok and don't take too long.
Count Back option
Avoid the need for tie breakers altogether! Predetermine a count back system that can separate teams on equal scores. It is important to make sure you communicate this to all guests at the beginning of the event so everyone knows. A good way to communicate this is by creating a cover page for the Answer Sheets to display the count back rules.
Example
In the event of a tie, final placings will be decided using the following count back method:
The team with the highest individual scoring round

The team with the highest number of 'Perfect' rounds

The team with the highest cumulative total for the three

Picture Rounds

The team with the highest total score on their last three

Answer Sheets
Preparing for a potential tie breaker situation is a vital step in planning your Trivia Night. Research your Single Question Shoot Out question and have another one up your sleeve just in case! 
Wishing you the very best with your fundraising.