Why are Trivia Events such a great way to fundraise? Simple! They are a heap of fun and everyone understands they are there to raise money for a shared cause. Winning the night is great, but it is not the main reason why people attend.
Introducing Bribes is a fun and interesting way to raise more funds at your next event.
What is a bribe?
Trivia Bribes refer to the payment made for the correct answer or clue to a trivia question. Bribes can also be accepted for Picture Round images.
Get creative and make bribery a feature of your event.
How bribing works
Allow guests to make bribes during Question Rounds. Stop once the answer sheet has been collected.
Distribute Picture Rounds at the beginning of your event. Allow bribes anytime prior to the sheets being collected.

Explain the rules and procedures for bribing at the beginning of your event.

Advising who they can bribe. This may be the MC, scorer or a dedicated volunteer.

Emphasise that the purpose of your event is to raise money and bribery is a fun way of doing so.
Top Tip: When discussing bribes with your audience, encourage teams to set up a Bribe Kitty for their table. Suggest that team members each contribute an amount to a team kitty so they can pay for bribes throughout the event. You might also consider selling packages of bribe tickets.
How should I incorporate bribes?
Tailor how you implement bribes at your event. You can choose to minimise the impact of bribes on the overall trivia result, or ramp them up to improve your fundraising result. This is a judgement call that should be made after considering:
Your audience; is quizzing or donating more important to them?

The fundraising cause; is it a special benefit night or a conventional school fundraiser?

The number of event volunteers available; for more complexed bribe processes, you will need a dedicated volunteer
Simple bribery method
Decide on the cost of Bribes. Charge a fixed amount for the whole event or gradually increase them each round, every second round or in the final rounds only.

Allow an unlimited number of bribes per team

Make all Question and Picture rounds open to bribery
Keeping things simple has benefits. It makes it easier to explain and prevents the need to track bribes at your event. The downside is you may limit your potential to raise more funds.
More complex bribe variations
Place a cap on the maximum number of bribes per team

Cap the maximum number of bribes a team can make per round (Both Question and Picture rounds)

Limit or stop bribes in the final rounds of your event

Make successive bribes more expensive for each team. For example, start at $10 and increase each successive bribe by $1 or $2)

Consider varying it up by including bribes for clues to the answer. These could include cryptic, factual, or multiple choice clues. Use these in tandem with more expensive bribes for the correct answer

Introduce a 'Double Point' bribe. Teams can nominate any question prior to it being read out, for a chance to receive double points for the correct answer. If they get the answer wrong, they receive zero points. The 'Double Point' bribe should cost teams a higher amount than other bribes
Variations are only limited by your imagination, but there are challenges associated with them. There is usually greater preparation required and you will need a volunteer to manage, track and communicate the process throughout your event. The upside is raising more money and also incorporating them as a feature of your event to raise the interest and excitement level in the room

Why a dedicated volunteer to conduct the bribes process is best!
If you are implementing a bribe process that is more complex, line up a volunteer to manage the entire process. They will be responsible for:
Ensuring the rules and conditions are followed

Walk the room during each round to drum up excitement and be available to accept bribes

Give regular updates to the crowd. Advise when the cost or frequency of bribes changes. Updates could also include the amount raised, the number of bribes received, or which teams are doing the most bribing

Handle cash and

electronic payments

for bribes

Track the number and value of bribes for each team

Collect all team sheets at the end of each round. This is the prime time to persuade teams to make bribes for answers they didn't know
Top Tip: If you are using a dedicated volunteer to manage the bribes process, organise a costume to help them stand out and get into the role. A police officer, judge or council official are some examples you could use.
Everyone understands that the primary purpose of attending a Fundraising Trivia Event is to raise funds for a particular cause. Introducing Bribes will not only increase the profitability of your event, but lift the energy and enjoyment in the room.
To ensure you have bribes and everything else covered at your next fundraising trivia event.
Download our
Ultimate Trivia Night Program to Follow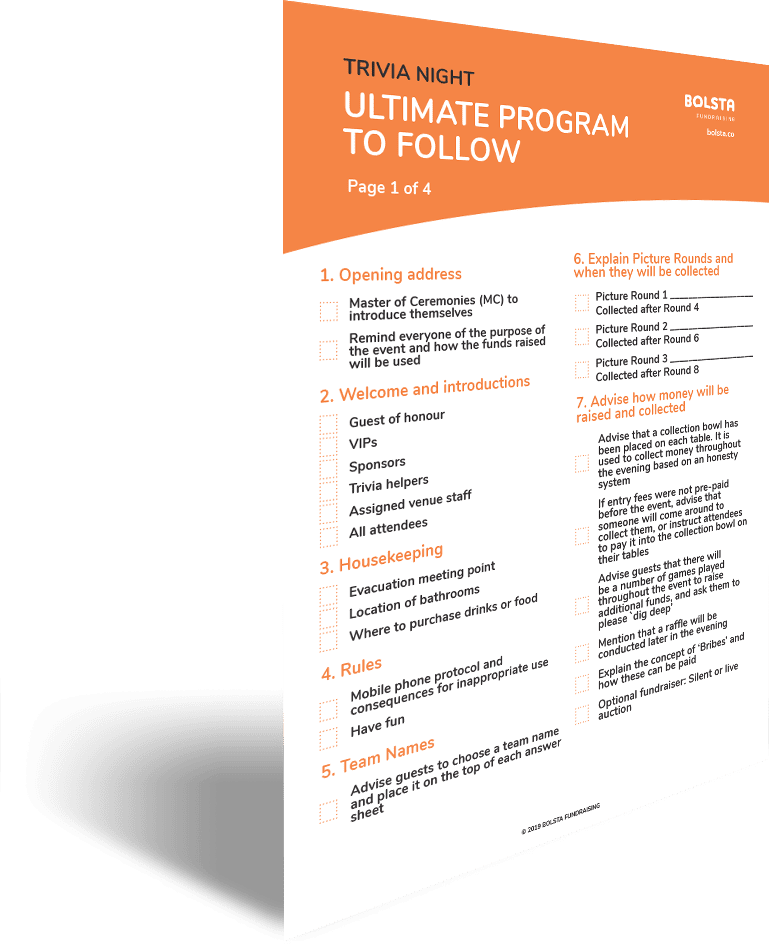 Get the Ultimate Trivia Night Program Here!