You've looked at all the pros and cons and have decided, a Bunnings barbecue is for you. Now it's time to maximise your Bunnings BBQ fundraiser.
If you're still unsure, please read Bunnings sausage sizzle fundraiser: Is it really worth it?
There are a few ways to approach your barbecue. You can do the bare minimum, cooking a few sausages and slapping them on some bread or by including a few additions, you can create a thriving party-like atmosphere. It doesn't take too much to guess which day will do better, your preparation will have a massive impact on the day's profit.
Read on to get our top tips to help you smash your sausage sizzle fundraiser out of the ballpark.
1. The Sausages
Cheapest isn't necessarily going to reap you the best rewards. Many of your customers will be seasoned Bunnings veterans; they will scrutinise your produce. They can pick an average sausage a mile away, bringing a potential sale to a halt.
Many visitors will buy on the way in, intending to eat as they shop. You'd like them to buy one on the way out. The standard of the sandwich will make this decision for them.
These days, many butchers have high quality sausages for sale. Approach a butcher and explain that you want to use good quality produce and support local.
Most butchers will be happy to do a deal. Who knows, you may even get the sausages donated.
2. The Onions
Even if you're not a fan of onions, you must include them. Humans are sensory beings with their smell governing many of their actions. Franchises like McDonald's know this all too well, making sure their outlet's aromas get pumped into the surrounding atmosphere.
It's the smell of sweet cooking onions that will lure people towards your hot plates.
Top Tip 1: There's a massive difference between sweet caramelised onions and burnt bitter rings of charcoal. Have a bottle of water close by and periodically squirt the onions. This will keep them moist and prevent them from burning.
Top Tip 2: Buying pre-sliced onions will save you loads of time and tears. There will be a cost difference, but your volunteers will thank you.
3. Supplies
Quantities
The quantities for your supplies including food and drinks will vary. The difference between stores is so diverse that I wouldn't even hazard a guess.
Your Activity Organiser will have up-to-date data for their warehouse, that they'll share with you.
Don't forget to also ask if they can recommend a local supplier for bread, sausages and onions that provide in bulk.
Don't miss a thing, get the Bunnings Sausage Sizzle 'Items Checklist'.
Enter your details below and we'll email you a PDF.
Get the Sausage Sizzle Checklist!
Sauces
Community Groups are welcome to provide additional sauces other than the required tomato, BBQ and mustard.
A Caribbean Society offered a range of Caribbean sauces including Siracha. This went down a treat especially with those that like to spice things up.
Most importantly, adding extra sauces is an inexpensive way to bring attention and get extra sales.
Discounts
Keep an eye out for deals and discounts leading up to your day. You can buy many of your item's months ahead. Even better, ask your crew if they can donate some or all of the items.
If you're planning to use one of the larger supermarket chains. Coles and Woolworths have systems in place to help community projects.
4. People don't like to line up
It's vital to have the sandwiches flowing. It may surprise you that this small detail might have the most impact on sales for the day. People won't line up, for too long anyway at a Bunnings sausage sizzle.
You should aim to have a minimum of twelve sausages ready at all times, as the decision to buy a sandwich will rely on how quick the purchase will be. As patrons walk towards the store, the smell of onions will spark the question, should I buy one or wait for dinner? The answer will be an easy no if there's a wait involved.
5. Have a Tip Jar
This is so simple; It almost defies belief when I don't see one. A sausage sandwich and drink are $4.50 with some organisations even giving a meal deal for $4. You want that extra dollar, but if there's no tip jar it will go back into the pocket of the purchaser. Get your creative skills flaring and design yourself a tip jar that grabs attention. I guarantee you'll make extra cash if you follow these simple steps.
Grab an old jar, the larger the better. Write a funny comment on a label or use one from below. Stick it on the jar.
Afraid of change, leave it here
On a scale of $1 – $10, how attractive are you?
Let's not make this awkward
Money is the root of all evil, cleanse yourself here
This requires two tip jars, label one with Men's vote and the other with Women's vote. Provide a sign with 'Some people say Men tip better than Women do', take our survey
Every time you don't tip, a child gets a mullet
This will require a toy fish inside the jar – I can only swim in $ please don't let me die.
Tips, they're like hugs without the awkward body contact
There is a party in this jar and your money is invited
The sandwiches taste better when you tip
Tips, remember God is watching
Don't be a hipster be a tipster
6. Go Cashless
It's official, we're in the digital age and it's never been easier to go cashless.
Statistically, there are more people than ever that don't carry cash and companies like Square have taken advantage of this.
The pain with setting the facilities up will soon disappear as the funds roll in.
It's best to look at this as an investment. Future events such as trivia nights. golf days, auctions in fact anytime you need to sell or raise funds will become easier.
Please be aware that this is not a requirement from Bunnings and you're most welcome to use good old fashioned cash during the day.
7. The Blackboard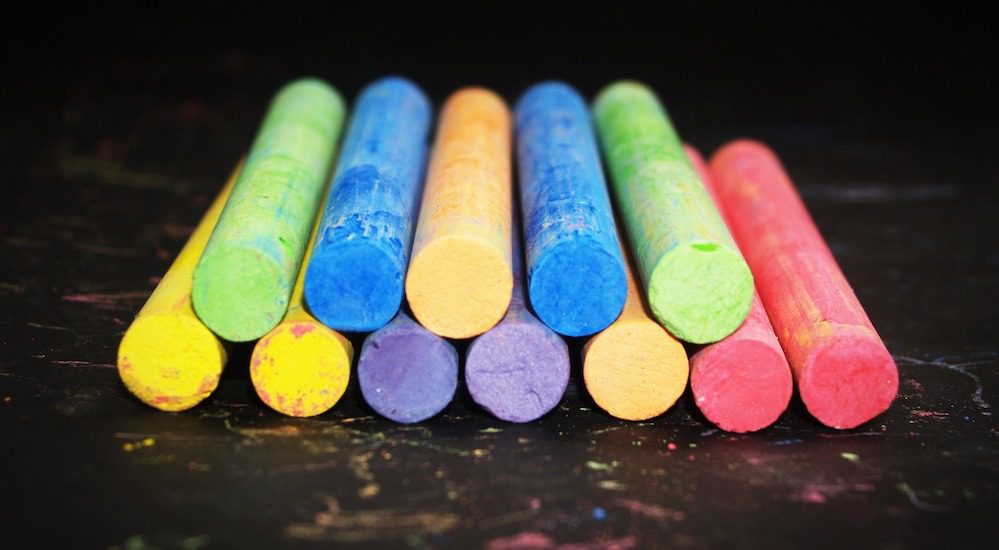 I often wonder why the blackboard Bunnings offers are used as an afterthought. Apart from your apparel, this will be your only form of advertising, use it wisely.
Scribbling a few non-readable words won't do much to get your message across.
Most groups have someone who has a few artistic skills, invest in a box of different coloured chalk, and create your Picasso.
Prepare the blackboard with who you are and what the funds raised will be used for?
Imagine a charity with their name proudly displayed with the words 'Help us raise money for new wheelchairs' or a sporting group with 'all funds raised will help our juniors play for free' anyone who may be on the fence would soon be lining up.
8. How to Dress
I love cooking in my old tracksuit pants and torn barbecue t-shirt but that won't do for this event.
Your aim should be to showcase who you are at every opportunity. It's not just the volume of people you'll encounter. It's also the increased potential of someone aligning with your cause; the more professional you look, the more appealing you will be.
The Scout group at the start of this article did it in spades. They were all dressed in their uniforms with matching hats and scarfs to boot.
Think of yourselves as a bikie gang proudly wearing your colours, the more in sync and matching the better.
9. Add a Cake Stall
Running a cake stall with your barbecue is always a win-win situation. If you're lucky enough to have a group that includes some baking buffs, then you're in for some great profits. People love home-baked goods almost as much as those who bake, love showing them off.
In addition, you're not shackled to any prices set by Bunnings. You choose the price, which will increase your yields.
Top Tip: Less is not more with cakes and cookies. Adding an extra spoon of dough when baking will have a minimal effect on costs, turning into a positive with sales.
10. Run a Raffle
A raffle is a no brainer when it comes to extra fundraising. The biggest obstacle with selling raffle tickets is getting someone's attention. That obstacle is quickly eliminated with the barbecue, simply offer raffle tickets to purchase while serving sandwiches or cakes.
Use your personalised QR code by joining Bolsta Raffles
Canterbury Boys High School
This is perfect for schools. Easy, effective and compliant.
Illawarra District Rugby Juniors
Bolsta Raffles helped us raise $33,590. It was very simple...
Pod Projects
We reached our goal of $1000 in just over a week. This is a game-changer for charities like ours.
11. Give out a Recruitment Flyer
A complaint I often hear from volunteers is that they could always use more help. Whether it's additional volunteers, players for their teams or even supporters, there's always room for one more.
Taking this into consideration, I rarely see organisations using this golden opportunity the barbecues bring. Offer a flyer to customers to help increase your chances of recruitment. Include basic information such as who you are, what you do, contact details and social media, this will skyrocket your chances of someone joining your group.
Conclusion
There you have it, our top tips to make your Bunnings barbecue day a cracker.
Considering how long the wait is to gain access to these great days, it would be unfortunate not to take full advantage. I guarantee adding a few of the above suggestions will bring greater results to your day.
Happy Fundraising!