Game description
Badminton is the theme of this game and requires participants to hit a shuttlecock towards a target. The person who lands their shuttlecock closest to the target is the winner. This is a perfect game to run at outdoor events, but can also be played indoors with the right venue.
Picture this! The first thing people see when they arrive at your golf day are people lined up at the practice green. But they aren't hitting golf balls, instead they are hitting shuttlecocks and trying to get them closest to the hole. The cheering and laughter will set the right atmosphere for the rest of your event.
Instructions on how to play
Participants start by purchasing shuttlecocks and queue at the launch zone to await their turn.
Using a racquet provided, they take turns hitting their shuttlecock(s) towards the target.
Players may hit their shuttlecocks in any manner they choose. Underarm, overhead and sideways actions are all acceptable.
An invalid hit occurs when a participant steps over the launch line whilst attempting their shot.
Decide how many air swings you will allow before deeming a turn unsuccessful.
Measure the distance of the shuttlecock from the target and leave it in place if it is closest. Return all other shuttlecocks to be resold.
Participants may displace the closest shuttlecock with their own shot.
If setting up outdoors you may need to make adjustments for windy conditions. Find a sheltered spot and use a marker to indicate the position of the closest shuttlecock.
The person who hits the closest shuttlecock to the target wins a prize. An alternative to organising a prize, is giving the winner 50% of the funds raised from the game. The other 50% is retained by the fundraising entity.
Equipment required
Note: This game can be played on grass or any firm surface
Badminton or tennis racquet

8 shuttlecocks

Rope or tape to mark out the line to launch from

Tape measure

A target that will rest securely on the ground

A table to sell shuttlecocks from

A container for the collection of money
How to set up
Choose a space 20 x 10 metres to conduct your game. Note, it is very difficult to hit a shuttlecock further than 15 metres in distance.
Mark out a line on the ground with tape or rope. This is your launch line.
Have some practice shots to determine how far away you need to place the target. You will entice more participants if they feel there is an opportunity to land their Shuttlecock closer. To ensure this, place the target a very challenging distance away from the launch zone.
Place a heavily weighted target in your landing area. It is important that it stays in place for the entire game.
Set up a table 3 metres from the launch line where participants can queue and purchase shuttlecocks.
Number of volunteers required.
Two Volunteers:
One volunteer to sell shuttlecocks

A second volunteer to officiate the closest shuttlecock and return used shuttlecocks to the selling table.
Variations on the game
Try playing this game blindfolded.
Make it harder to reach the target by placing obstacles in the way.
How to make money
Charge a fee to participate.
Entice greater participation by offering incentives.
Example: $5 for 1 turn or $10 for 3.
You will make more money from this game if you don't have to purchase prizes. For help sourcing donated prizes, read this great article: Getting Prizes Donated is Easy When You Know How.
Additional Notes
Participants will be swinging hard, so please ensure you maintain a safe zone around your launch area.
Get the instructions for Badminton Shot and many more fundraising games sent straight to your inbox.
In this pack you'll receive the following PDF documents:
Badminton Shot

Closest Coin to the Bottle

Paper Aeroplane Challenge

Heads or Tails

'Sit Down if You…..' game

A comprehensive list of statements to run the 'Sit Down if You…..' game
Longest Marshmallow Drive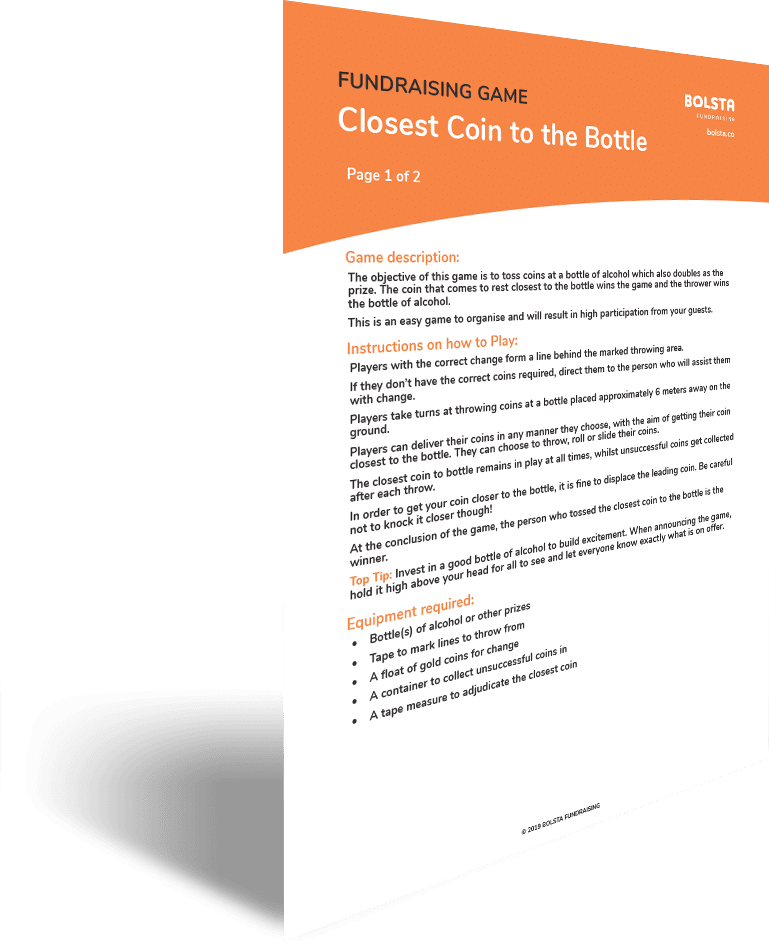 Download your Complete Package of Fundraising Games now!