Whether you're hosting a trivia night, fete or auction as your fundraiser, your main job is to create an atmosphere of fun. 
There's no better way to bring a night to life than playing some fun games. It's also a great way to increase your fundraising.
Whatever event you're running, you can incorporate these games in between your activities. 
I remember learning the importance of this during one special night, a valued sponsor approached me and heartedly patted my shoulder. With a wide grin saying, 
'I don't remember the last time the wife and I laughed so much.' I must have looked like a stunned mullet when he told me to double the sponsorship for next year. 
That night I learnt, the more fun someone's having the more generous they become.
I've seen the most reserved people chuckle uncontrollably playing the games listed below. I hope they do the same for you.  
Closest Coin to the Bottle
Everyone loves a game of skill and most fancy their chances with this game.
I love this game not only for its ability to raise funds quickly but it's also very easy to set-up.
You won't need much more than a bottle of booze. It doesn't have to be overly expensive but there won't be much excitement with a $5 bottle of champagne. 
You can make the profits even greater by getting it donated, read Getting Prizes Donated is Easy When You Know How! for more detail. 
Get your detailed instructions, how to set-up and even extra ways to fundraise here.
Sit Down If You……….
The great advantage of the (sit down) game, is that it gets everyone involved quickly and with little fuss.
This is an elimination type of game using fun statements, see the example statements below-
Sit down if you ate McDonald's today?
Sit down if you've had a haircut in the last week?
Sit down if you had sex today?
Help yourself to our comprehensive list of statements here.
Top Tip: If you know your audience is more conservative than it's best to leave any risky questions out. But you won't get a bigger laugh than the old grandmother sitting down after the sex question.
Help yourself to our detailed instructions here.
Heads or Tails
When it comes to speed and efficiently, there's no better game than heads or tails. It is by far the easiest and quickest game to execute.
Similar to the sit-down game. Instead of using questions, this time it's coins.
Checkout our full guide on the heads and tails game here.
Paper Aeroplane Challenge 
Another game that transports adults to their childhood.
Attendees will pit their skills against each other, with who can make the best paper aeroplane.
All you'll need is some A4 sheets of paper.
I like to play this as a target game instead of who can fly the furthest distance. It's easier to get accurate measurements and requires less room.
Get your paper aeroplane instructions here.
Longest Marshmallow Drive
This is a much loved golf based game. Traditionally, it is a competition to see who can hit their golf ball the furthest and have the accuracy to land it in a target area (normally the fairway).
The Longest Marshmallow Drive is conducted in exactly the same way, except a marshmallow is used in place of a golf ball. This minimises the space required and adds an entertaining element to the game.
The pure genius behind the marshmallow drive is its silliness. Try not to laugh as you watch determined participants come up with strategies of how they can get more distance from their marshmallows.
Get your Longest Marshmallow Drive instructions here.
Badminton Shot
Badminton is the theme of this game and requires participants to hit a shuttlecock towards a target. The person who lands their shuttlecock closest to the target is the winner. This is a perfect game to run at outdoor events, but can also be played indoors with the right venue.
Get your Badminton Shot instructions here.
Would you like the instructions for all these games in an easy printable PDF?
Our detailed Game Guides each include the following content:
Game description

Instructions on how to play

Equipment required

How to set up

Number of volunteers required

Variation on the game

How to make money
Fill in your details below and we'll send the instructions for all the games straight to your inbox.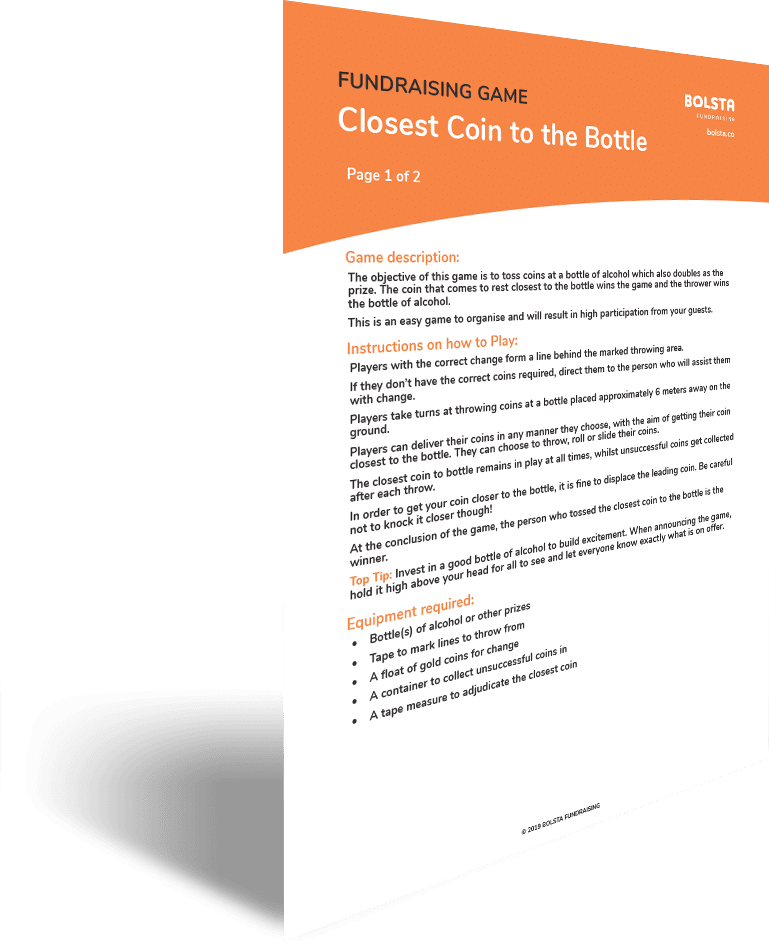 Get the Fundraising Games Instructions Pack Now!