Game description
This very easy fundraising game is a great laugh and involves the whole audience. The game commences with participants standing up. The game MC will then whittle everyone down by reading out a series of statements until there is only one person standing, and they are crowned the winner.
Instructions on how to Play
The game is called 'Sit Down If You…..'
It begins with participants standing behind their chairs.
The organiser then makes a series of statements, such as 'sit down if you……….own a yellow vehicle'
If participants DO in fact own a yellow vehicle – they are out of the game and take their seat.
If participants DO NOT own a yellow vehicle – they remain standing and are still alive in the game.
Continue to read statements, until there is one person left standing and they will be crowned the winner.
Top Tip: When there are 5 participants remaining, ask them to come up the front of the venue. This is where a good MC can create excitement as they whittle them down to the ultimate winner.
Equipment required
A list of statements. Download our FREE printable list of statements here
Microphone
Prize(s):
Have 1 significant prize for the 1st place winner
If you choose to have minor placings, organise additional smaller prizes (Examples: Mugs, drink bottles, box of chocolates or bottles of wine)
Balloons for each table if using the 'Life' option (see below)
How to set up
This is an easy game to organise as there is no specific set up required. Entrants participate at their tables.
Place the prize(s) up the front of the venue so the game MC can show them off to the audience when introducing the game and also distribute them to the winners.
Number of Volunteers required.
Only 1 volunteer is required to run this game and read out the statements.
It is nice to get someone other than the MC to run this game. It gives the MC a break and it's nice to hear a different voice on the microphone – Just make sure they are comfortable in front of a crowd.
Variations on the game
Ask some riskier questions if your audience is up for it. You will get a good laugh when someone unexpected sits down to the question 'Sit down if you……. had sex today'
Questions that are a little on the embarrassing side will often generate a higher level of laughter. Please use your own discretion based on how well you know your audience and what the event is in aid of. If in doubt, don't go here!
How to make money
Charge a fee to participate (based on the value and number of prizes).
Option 1: Ask participants to place the fee in the collection bowl on their table before standing behind their chair.
Option 2: Let your audience know that you will be collecting an entry fee from each table. Firmly state that everyone is expected to participate. If you are unable to pay, then the person (at your table) who is holding the most cash will pay for you.
You will make more money from this game if you don't have to purchase prizes. For help sourcing donated prizes, read this great article: Getting Prizes Donated is Easy When You Know How.
Second chance option
Stop the game once half the participants have been eliminated. For a fee, offer everyone the opportunity to re-enter the game or purchase a life.
Those who have been eliminated can re-enter the game. Instruct them to place the fee in the collection bowl on their table and stand behind their chair again.
Those who were still 'alive' in the game at that point, can purchase one 'life' by paying the same fee into the collection bowl on their table. This 'life' can be used later in the game when they do get eliminated.
Our favourite way to represent a 'life' is with balloons. They are inexpensive, and a great visual way to identify who has a second chance in the game. Instruct everyone who purchased a 'life' to inflate their balloons and hold them in their hands. To use a 'life', simply pop the balloon and remain playing. The sound of popping balloons adds a fun element to this game.
Additional notes
Please don't single out groups of people based on their physical attributes. Questions such as, sit down if you are bald, wear glasses or are older than the first Rocky movie won't go down well.
During the prize rounds, if multiple participants get eliminated on the same statement, get them to do Paper Rock Scissors or flip a coin to determine their finishing position.
When there are two final participants, continue to ask statements until there is an individual winner (ie ignore statements that they both answer 'YES' to).
Get the instructions for 'Sit Down If You……' and many more fundraising games sent straight to your inbox.
In this pack you'll receive the following PDF documents:
'Sit Down if You…..' game

A comprehensive list of statements to run the 'Sit Down if You…..' game

Heads or Tails

Longest Marshmallow Drive
Badminton Shot

Closest Coin to the Bottle

Paper Aeroplane Challenge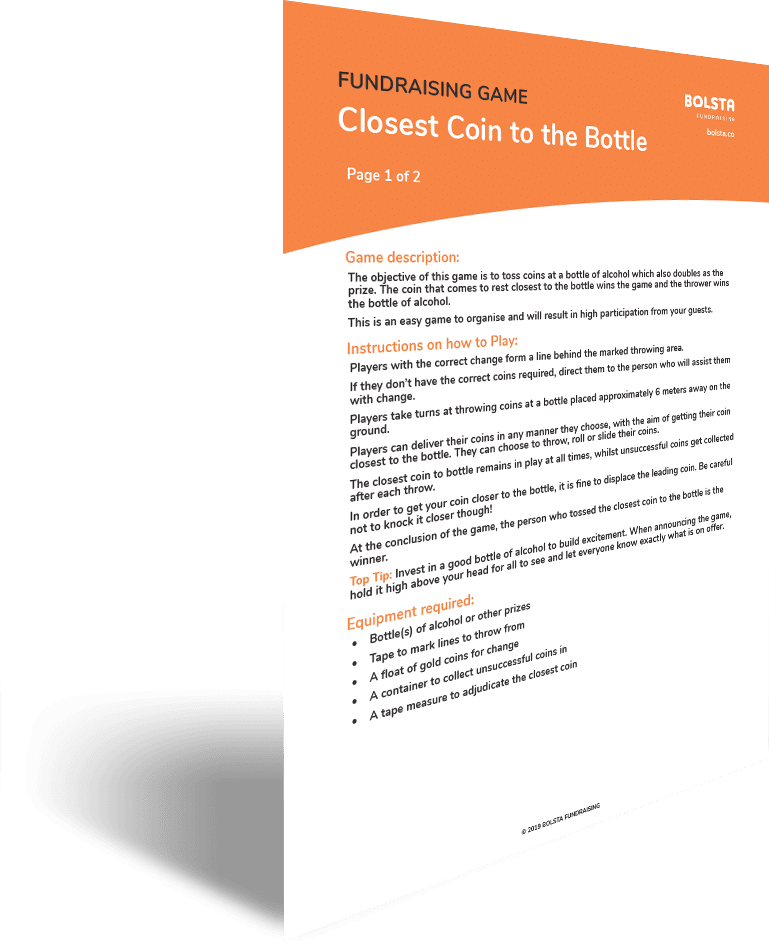 Get your FREE Package of Fundraising Games now!