Game description
Make your own paper aeroplane and fly it towards a target. The closest plane to the target is the winner. This fundraising game is fun for adults and children alike.
Instructions on how to play
Guests are invited to purchase sheets of A4 paper to participate
After making a paper aeroplane, participants move to the launch area.
They take turns of launching their aeroplanes at the target.
Launch can take place in any manner they choose, but must be from behind a set line.
Use a coin to mark the spot where the closest aeroplane has landed.
After each throw, carefully remove the aeroplane and give the thrower a chance to buy it back for another throw.
If the thrower does not want to re-buy their aeroplane, discard it so it can't be used again.
Participants can purchase additional sheets of A4 paper if they wish.
The closest plane to the target at the end of the game wins the prize. 
Equipment required
A ream of A4 paper
Tape to mark the launch area
Tape measure

 

A coin (or alternate marker)

 

A glass (or other target)
A garbage bin for discarded aeroplanes
A container to collect money in

 
How to set up
Place sheets of paper on every table. Participants can purchase these by placing the fee in the collection bowl.  
Select or clear an area that is approximately 10 metres by 5 metres in size.
Mark the launch area with a line of tape. 
Place the glass (or other target) 5 to 10 metres from your launch area. 
Ensure a coin (or alternate marker) is handy to indicate the closest aeroplane.
Position a bin near the game zone for used paper aeroplanes.
Number of volunteers required
Two Volunteers:
One volunteer to officiate the game. They will ensure participants are throwing their planes from behind the launch line, and judge the closest plane after each throw.
The second volunteer's role is to sell aeroplanes back to owners after their throw if they want another go. Also to sell additional sheets of paper to people who wish to make a different aeroplane. This is a role for your best seller so they can persuade participants to pay for multiple goes.
Variations on the game
Change the aim of the game to who can fly their paper aeroplane the furthest. This is a great game for indoor and outdoor events. If it is windy outdoors, throw downwind and watch them go!

 
Establish a second launch area that is closer to the target. Charge a fee to those who would like an advantage.
If you don't have a prize for this game, consider organising a 50/50 prize. This means 50% of the funds raised for this game go to the winner and the other half are kept by the fundraising entity.

 
How to make money
Charge a fee to purchase sheets of A4 paper.
Sell aeroplanes back to their owners who want another throw.
Charge an extra fee to throw from a launch area that is closer to the target.
You will make more money from this game if you don't have to purchase prizes. For help sourcing donated prizes, read this great article: Getting Prizes Donated is Easy When You Know How.
Get the instructions for Paper Aeroplane Challenge and many more fundraising games sent straight to your inbox.
In this pack you'll receive the following PDF documents:
Paper Aeroplane Challenge

Heads or Tails

Longest Marshmallow Drive
Badminton Shot

Closest Coin to the Bottle

'Sit Down if You…..' game

A comprehensive list of statements to run the 'Sit Down if You…..' game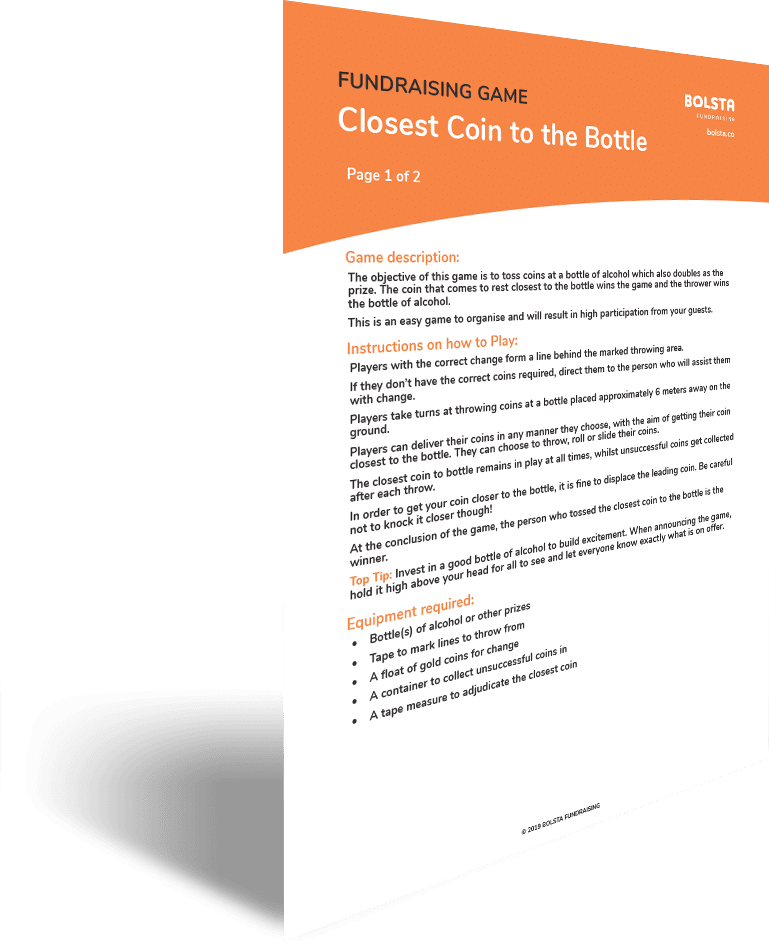 Get your FREE Package of Fundraising Games now!