One thing you'll notice at most events is people will always have some type of drink either at their table or in their hand while mingling. There is just something that makes us feel like we're missing out if we're left empty-handed. I've watched friends swear they'll pass on the overpriced beverages at large sporting events, only to come back with four half-filled plastic cups of warm beer.

This is the 'not so secret' ingredient when organising your fundraising event. If you can sell your own alcohol, you'll be well on your way to making a great profit.
There will be extra work but your fundraising potential will skyrocket.
Enjoy our go to steps for running the bar at your next fundraiser.
Let's start with the regulations you'll need to have in check-

Liquor license – Permit to sell liquor
To supply or sell alcohol for most events requires a licence.
You may already have a license to sell alcohol, usually you can simply transfer these allowances to your one-off event.
If you don't possess a license there are a few necessary steps to follow before the event.
Depending on the state you are in will determine which licence to obtain, in NSW it's a 'limited licence'. If you live in the ACT, you will need a Non-Commercial Liquor Permit, where in Queensland it's called a Community liquor permit.
Regardless of what they're named, these licences are primarily designed for community groups to sell liquor. Most of these licences can take at least a month to obtain, make sure to give yourself ample time for this process.
The good news is, these licenses are relatively easy and cheap to acquire.
Click on your state below to get you started with your application.
Some more things to consider
Once again depending on which state you will require your licence for, you may need to:
Register your event with the local police force/authorities

Get a consent authority from your local Council.

Follow restrictions on the amount of people able to attend

Supply a venue management plan

Organise free drinking water

RSA
A RSA (Responsible service of Alcohol) certificate is mandatory for anyone serving liquor at an event.
The training can be done online for all states except Victoria and is relatively straight forward. The training is designed to teach servers how to serve alcohol responsibly and help identify intoxicated or underage drinkers.
Depending on which state you're from, an RSA will last between 3 to 5 years. Look at this as an investment in your volunteers for future events.
Alternatively, you could hire bar staff if no-one is available or willing to do the training for the RSA. This option will most likely end up being more costly but will give you professional servers for your event.
Liability insurance
It's imperative to be covered for any mishaps or accidents your organisation could end up being responsible for.
Many insurance companies have one-off event insurance for reasonable prices. Some even deal elusively with not for profit groups.
Never assume you're covered, make it a priority to do your homework before booking any event.
Security
Events where alcohol is served, usually require a minimum number of security personnel. The security will also need to hold an RSA certificate.
It's best to understand your responsibilities especially when dealing with larger crowds. The rule of thumb is 2 security guards for the first 100 people, then 1 per 100 people after that.
Professional security will not only keep an eye on the crowd and turn away uninvited guests, they'll also help protect valuables and property.
Pro Tip: Make sure to reach out through your contacts. You may be lucky to have some people with the necessary qualifications in your organisation.
Buying Alcohol / liquor
Not many donation opportunities can be found throughout the big liquor chains when purchasing your alcohol. The best they usually do is price match to get your business. However, Dan Murphy's does have a donation request form for a gift voucher (It's limited to $25) and is not available for sporting clubs.
Another important step is to get your alcohol on consignment. This is where any unopened items can be returned to the vendor for a full refund. This way you can buy big and be confident you won't run out during your event.
"I'd rather be looking at it, than looking for it" is my moto when stocking up on alcohol.
Unfortunately, this option isn't available with many of the big liquor chains as most have no return policies in place. Make sure to visit your smaller independent bottle shops, owners are usually happy to agree to your requests for your business.
Your best strategy is to keep your eye out for discounts in the lead up to your event.
Don t forget, not everyone will be drinking alcohol at your event and soft drinks always return a great profit as well. While searching for bargains, make sure to keep your eye out for Non-alcoholic beverages as well.
The Venue
Traditional venues such as a surf club or town hall are still great venue options for running the bar. But it pays to think outside of the box. As long as the space is available, most places can be dressed up for your fundraiser.
Enjoy some of these out of the box suggestions.
Art galleries, theatres and even museums are being hired out.
You could work out a great meal package at a local restaurant, provided the room and facilities suit.
Many vineyards are specialising in this space and they always add a touch of class with their surrounds.
A marquee is a great option provided you have the room available.
Try Airbnb for farmhouses or get your sea legs on, by choosing a boat.
If you'd really like to push the limits, setting up in a carpark, warehouse or even an airport hanger will definitely create intrigue when inviting your guests.
The sky's the limit.

Refrigeration
Your guests will forgive many things, warm beer is not one of them. Please don't let refrigeration be an afterthought!
Before any commitment, check all the refrigeration options. How many fridges are there, do they work properly, will they hold the amount of alcohol you think will be consumed?
Most importantly, how early can you prepare the fridges? Aim to load the fridges no later than the morning of the event. There is no magic other than time that will cool your beverages.
If you've found the perfect venue but the refrigeration is inadequate, then esky's are a great option. It will require dollars spent on ice, but nothing brings drinks up to the temperature desired as quick as ice.
Catering
Australian legislation insists food is available when selling alcohol. The venue you hire could have a catering option in place, if not you will need to organise this yourself.
There are many organisations that specialise with these types of events. It will be a per head cost but will save a great deal of work for your volunteers.
If it's a more casual event. You could do a good old-fashioned sausage sizzle. Of course, the venue will need to have a barbecue or adequate kitchen facilities. Just make sure to inform your guests beforehand with what type of meal will be provided.
Extra ways to fundraise
Sell stubbie holders
Having stubbie holders on sale will greatly increase your profits.
You can purchase personalised stubbie holders for less then $3 each. I've seen holders sell out on many occasions especially if they're commemorating the event for four even five times what they cost.
Include fundraising games
There's no better way to bring a night to life than playing some fun games. It's also a great way to increase your fundraising.
Whatever event you're running, you can incorporate your fundraising games in between your activities. Run a head or tails game or include the classic closest coin to the bottle.
We've made running the games easy for you with our Fundraising Games – Package.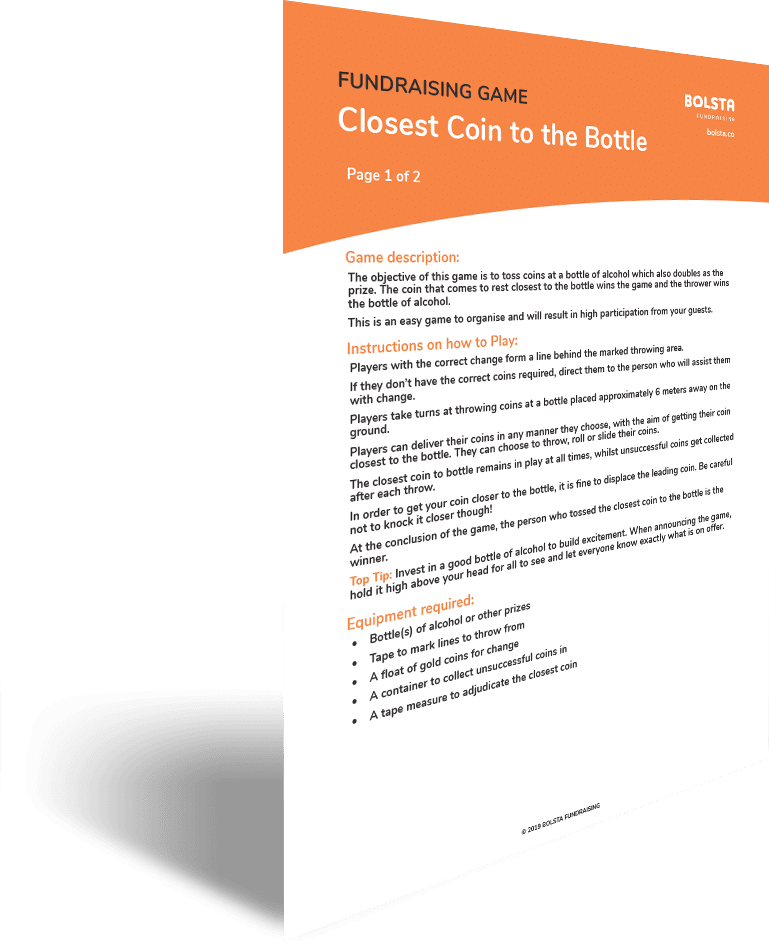 Get the Fundraising Game Package Now!
What you get in this pack
Closest Coin to the Bottle

Aeroplane Challenge

'Sit Down if You….. '

Heads or Tails

List of Statements for 'Sit Down if You….. ' game
Run a raffle
One area that never ceases to amaze me is raffle ticket sales at an event. The most difficult thing about selling raffle tickets is finding an audience. This won't be a problem at your fundraiser.
Simply set-up raffle books on and around the bar. While the bar staff are serving, they can on-sell raffle tickets. Make sure to also have your best seller do the rounds to really maximise your fundraising potential.
Return and Earn
After your event, you will have many empty bottles left. Instead of trying to find space in bins or even have to pay to get them cleaned up. Why not run them down to a Return and Earn bin. This way instead of paying to have the bottles picked up, it's your organisation that gets rewarded.
I very much hope this article gives you the confidence to run the bar at your next fundraiser.