The crowd groaned as the question came over the load speaker.
'What is the fifth word spoken in Shakespeare's play, Romeo and Juliet?'
My friend Johnny and potential sponsor made eye contact with me, pretending to yawn. I laughed, trying to keep the mood light.
It was our annual trivia night; I'd finally convinced him to attend, but the night had turned into a disaster.
My heart sank as I watched the quiz master dying a slow death. The questions were too difficult for an amateur quiz crowd, and he had to battle all night to hold everyone's attention. 
It wasn't his fault. Dave was your typical 'heart of gold' volunteer, always willing to put his hand up when there was no one else to do the job. As I watched him painstakingly stumble through the rest of the night, I made a promise to help make this night better.
It wasn't all smooth sailing, but over the years we have learnt a lot about trivia nights and how to make them more profitable, professional and enjoyable.
Enjoy our top 13 tips for your next trivia event
1) The venue
Let's start with the basics!
Your venue space needs to have appeal and be functional.
Is there enough space to accommodate all the guests without crowding them in?
Is there a good audio system so everyone can hear?
Does it have air conditioning?
Are the amenities suitable?
Don't squeeze everyone into a venue (ie a clubhouse or hall) if the space isn't appropriate. You don't want tables situated around corners where they can't see the MC or too close together, making it impossible to discuss answers without competing tables hearing.
Explore the possibilities of hiring a venue where you can run the bar. This is the most lucrative option, as the money generated by selling drinks greatly offsets the hiring cost. If that option isn't available, search for a venue that will supply a space for free. Many will offer this if you can ensure a good number of attendees, as they will make money from food and beverage sales. 
2) Fail to plan, plan to fail
A skilled MC may be capable of running things by the seat of their pants, but the rest of us need to be more prepared.
Planning and preparation are the key to ensuring the host is relaxed, professional, and overall more entertaining.
Simple strategies of how the night should flow will go a long way to alleviating many of the pitfalls that can affect a successful event.
I like to plan the night into four segments. Each segment contains:
Two rounds of questions
Reading the answers from two previous rounds
Announcing the scores
Running a fundraising game or raffle
Try Our Ultimate Trivia Night Program to help keep you on track.
Contingency planning is important. There's nothing more frustrating than having to find batteries for the microphone in the middle of asking questions. Having all the necessary equipment to run a successful event is crucial.
This Trivia Night Equipment Checklist will ensure you are fully prepared. 
3) Play games to raise additional funds 
Trivia is not everyone's forte but if you can throw in some games, it'll give all your audience members a chance to shine by winning some prizes.
Closest coin to the bottle is a great game of skill that is easy to organise and fun for everyone to play. You may prefer to play the Sit down if you game. This involves reading out fun statements to the participants. If a statement applies to them, they are eliminated!
For a detailed explanation of these games and many more, read Fun and Profitable Fundraising Games.
These games are also great ways to create time for your crew to update scores and get the next rounds organised. They also create breaks for guests to use the bathroom or go to the bar and let's not forget the most important reason everyone is there………… they are a great way to raise additional funds.
4) Display the scores 
Everyone wants to know if they're winning. If there is no scoreboard shown you can guarantee that there will be cries of "WHAT ARE THE SCORES?" If you don't want to have this yelled out every five minutes, then ensure you have a good score board. It doesn't have to be too fancy, use a large whiteboard, A1 sheets of paper or if you're really lucky connect to a big screen at the venue.
Keep your audience up to date by announcing the scores every few rounds.
This is a good opportunity to get a laugh by highlighting some of the more interesting incorrect answers. You can also have a bit of fun with the positioning of teams. Of course, this should be done constructively without embarrassing anyone.
5) The dreaded mobile phone
These little devices have become the trivia hosts worst nightmare, providing answers to questions in seconds.
The temptation of pressing a few letters into Google Search is just too much for some. Especially while enjoying a few drinks with the answer on the tip of their tongue. They're not normally a calculated dastardly act to win, rather an unintended action from someone who is not a serious quizzer.
I like to address this in the house rules at the beginning of the night. Advise your guests to prevent accusations, it's best to leave their phones alone especially during question time.
Warn `would be` cheaters that if they are caught, you will bring them out the front to be punished. This could be performing a song or dance. The thought of being embarrassed is usually enough to deter cheating.
Keeping situations like these light-hearted and fun will encourage a great atmosphere for your night without your guests feeling like they're being watched by the Gestapo.
6) Get plenty of prizes
The more prizes the better. Traditionally, trivia nights have 8 to 10 people per table. Ideally, you'd like a prize for each player in the winning teams.
Remember that your audience is diverse and so should be the prizes. Consider who will be there and the types of prizes they may like, then make a list from there.
Then reach out to your community and see what can be donated, many organisations will be happy to donate vouchers or smaller items to support their local community.
Most importantly, have a plan on how you will acknowledge them for their generous gifts (i.e. mentions on the night / named on the invite / rounds named after them etc.)
7) Run a raffle
There are few easier ways than running a raffle to raise funds.
It is as simple as organising a prize and purchasing some raffle tickets. If you don't have a prize, consider doing a 50/50 raffle, where you retain half the proceeds from the raffle and the winner gets the other half. Ensure you enlist your best seller to work the room.
Remember, people are there to support your cause and they won't mind being asked to dig deep during the night, especially if they're enjoying themselves. 
8) Don't go for too long
I've found the sweet spot for my trivia nights is 8 rounds of 10 questions. This gives you plenty of time to score, run fundraising games and conduct a raffle without feeling that the night is rushed.
As I touched on previously, trivia nights aren't everyone's cup of tea but that doesn't mean that people won't graciously come and support your night.
Leaving a couple of hours at the end for mingling will go a long way to balancing the night and boosting your chances of selling out future fundraising nights.
9) Use Answer Sheets to Acknowledge Sponsors
An answer sheet is a direct communication tool to your audience, so make the most of it.
Many organisations from sporting clubs, schools and charities have many sponsors and people who help their causes. It doesn't take much to put their business name, logo or even a thank you on the answer sheet for all to see. 
Top Tip: Name the round after a sponsor. And now we have the 'Joe's Auto Repairs' round. A simple bit of advertising like this can go a long way to securing an ongoing relationship. 
Get your Trivia Answer Sheets Here
What you get in this pack:
 Trivia Answer Sheets (Customisable)
Acknowledge your sponsors and prize donors with our Customisable Answer Sheets.
Upload their logo and insert a personalised thank-you message for all to see.
Trivia Answer Sheets (Generic)
We get it, you just want to collect answers and tally them up on an easy-to-read sheet. We've taken care of that as well!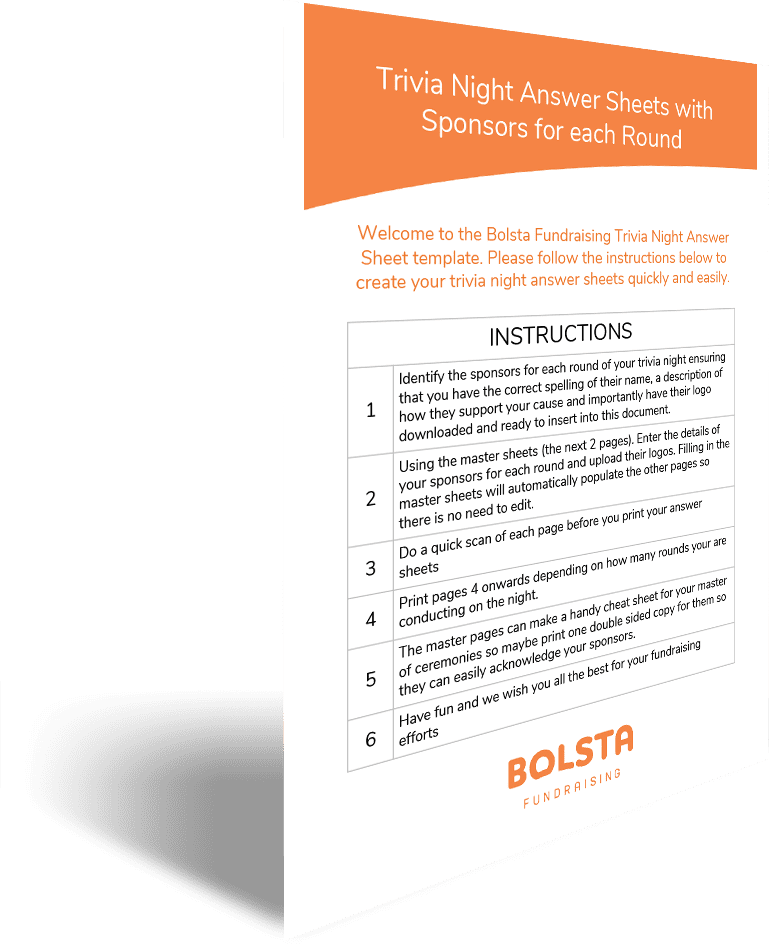 Get the Answer Sheets Now!
10) Promoting your Trivia Event
You could create the greatest trivia night, but if your guests don't know about it, then it won't be a success. The way you promote your event will be vital.
These days, there are many free promotion tools and it would be a pity not to use some if not all of them.
Learn about them here with our 13 Essential Ways to Promote Your Next Fundraiser.
11) The Questions Make the Night
It's vital to diversify your questions; I can't stress this enough.
I attended a trivia night where the host was obviously a horse fanatic. The night saw many guests rolling their eyes as he enthusiastically asked……'What type of saddle would a jockey use?'
You can throw in a few questions about your favourite subject, but please be aware your passion may not be someone else's.
Really consider your audience when you're preparing the questions. If the function is for a sporting club, use more questions around their sport. If it's a military fundraiser, then centre more questions around military trivia.
This will make everyone feel like they are doing well. It will also make the scoring closer, which will generate excitement.
It's ok to throw the occasional curve ball as that will be the difference between the winner and loser but if every second question is about the middle name of past American presidents, people will lose interest.
Remember, most attendees aren't there because they are professional quizzers. There will normally be a large range of ages, life experience, education and personal interests……. It's best to cater for all types of attendees.
12) Include Picture Rounds
Picture Rounds are great and you should include them at your next trivia event.
They consist of a number of images printed on a sheet of paper (usually 10 images). Teams need to correctly identify each image and write their answers in the space provided.
Not only are they loads of fun, picture rounds also give your guests something to do while you take care of running the event.
Download your FREE Picture Round (Customisable Sheets) HERE
13) Prepare a Tie Breaker Question
Tied trivia nights are very common and for this reason, it's best to be prepared with a tie breaker question. 
Don't make the same mistake we did. After a great night, we had two teams on the same points. Unprepared and before mobile phones, we had trouble finding a solution. Things didn't get better as the teams that were tied started coming up with their own solutions,
I can honestly say it wasn't our grandest moment. Please don't find yourself in this situation.
We recommend the Single Question Shoot Out as the best way to settle a tie. CLICK HERE for full details and instructions on how to prepare your tie breaker question.
I hope this article and the tools supplied help you organise your most successful trivia night yet. 
Happy Fundraising!